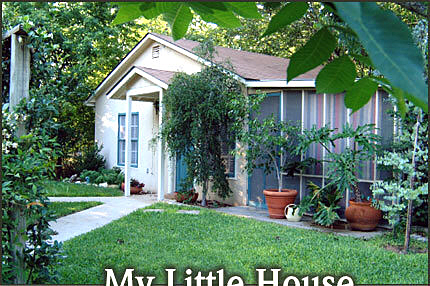 My Little House
My Little House Bed and Breakfast is truly unique and may be the oldest guest house in Fredericksburg designed and built as such. It is reminiscent of the San Francisco guesthouses where the cottage was build toward the back of the property where the family lived before the main house was built. Then later as the family prospered, they built their home on the front of the property and used the cottage as a guesthouse. This little cottage is tucked behind the main house exactly as was the practice in San Francisco. It is the original house on the property and was built in the very early 20th century.
When the host purchased the property, it was discovered that very few repairs were needed because the cottage was initially so well built. Modern –day comforts were added including kitchen, bath, central heat/air, and screened in porch. The original beaded board walls and ceiling and the fluted window frames are the architectural elements of MY LITTLE HOUSE that give it true appeal and grace. The bones of the house are exactly as they were originally built. The solid interior beaded board wall that affords privacy to kitchen and bath is original. All flooring is saltillo tile. Soft colors are used throughout the house.
My Little House offers our guests a beautiful king-sized bed dressed with neutral luxurious European 100% cotton fine linens, down pillows/seasonal comforter, and beautifully accented with throw pillows. With a solid wood antique canopy over the head of the bed, it is cozy, comfortable and romantic. The matching antique mirrored dresser and armoire for clothing fit so nicely that one could believe they were original to the house! With beautiful lamps bedside for late night reading, the area is complete.
The living room is also the entry of the guesthouse. It has a beautiful sofa for napping or viewing the TV (which is on antique table with casters so that it may be turned for watching TV in bed). With the two side tables with lamps and a footstool, this is a comfortable area to relax or watch a film in the VCR.
The dining room with its table is flooded with natural early morning light. It is adjacent to the compact, full kitchen. The kitchen is fully equipped for light cooking including cooktop, small oven, dishwasher, refrigerator, microwave, all dishes, utensils etc.
From the dining room, go through the antique nine-light beveled-glass door to the screened porch. There the old comfortable iron table and chairs invite guests to have a snack in the sunlight or wine by moonlight. The lovely teak chest, with steps box at the head of the hot tub holds the fluffy towels for a dip. This may be the last and ultimate enjoyment and relaxation before turning in for a good night 's sleep.

Amenities
King-size bed with canopy
Luxury European linens 100% fine cotton
Monogrammed cotton robes
Custom soaps/shampoo/body lotion
Fully equipped kitchen (tiled counter)
No daily housekeeping. Fresh towels and amenities happily replenished upon request.
Private BBQ Butane Grill, with all tools provided
350+ Video Library. Movies delivered to your cottage
Saltillo tile floors
Beaded board walls/ceilings
Bath (tiled shower/counter)
Approximately 500 sq ft.
CD/Radio on porch for soft listening
Cable TV/ DVD/ V.C.R./radio C.D. Player
Central Heat & Air
Seasonal Afternoon Refreshments
Hair dryer/iron/ironing board
Host on site (for helpful directions to shopping, site seeing and restaurants)
A "Birds Eye View map of the Best of Fredericksburg" is provided to each guest. The map includes restaurants and shopping on and around main street. The Visitor Guide provides additional information.
Gift certificates available

Pricing & Policies
$179.00 per night/base rate. All lodging charges subject to additional 13% City/State Lodging Tax.
2 person maximum occupancy
No children under 14 years of age
No smoking inside cottage (smoking on porch and grounds welcomed)
No bath products in hot tub
No candles
No pets of any kind
Two Night Minimum Required for Most Bookings. Call us to determine if we will schedule a one-night stay. This is to be determined by that week's configuration of bookings & availability. Weekends, Holiday Periods & Special Event Periods always require a minimum stay of 2 nights. No exceptions.
14 day cancellation period. If cancellation is made fourteen (14) or fewer days prior to date of arrival, guests will be responsible for full charge of reserved dates. If we are able to rebook the canceled dates, no charge will be incurred for the dates we can rebook within those 14 or fewer days.
No deposit required, but a credit card is required to hold the reservation. Credit card will be run within 7 days before first reserved date of arrival. Cash and personal check accepted. Personal checks must reach us no later than 10 days before scheduled arrival.
Check in: 3:00 PM Check Out: 11:00 AM
No refund for early departures

To serve you better, please provide us feedback on our Web site.