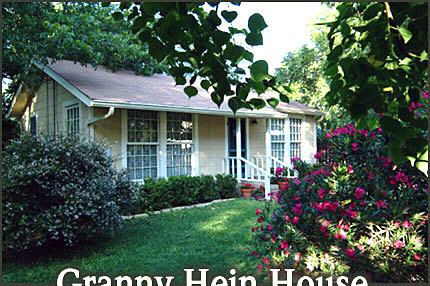 Granny Hein House
Granny Hein House Bed and Breakfast is a one-bedroom guest house with living room, bedroom, full kitchen and dining area, and bathroom. Although fully restored, the guesthouse retains its original old-fashioned floor to ceiling (12 over 12) wood windows. Hardwood floors, oriental rugs, and antique furniture/lighting throughout the guesthouse take you gently back to yesteryear. When you visit Granny Hein House, you will see a picture of GRANNY HEIN in her wedding dress! (This house was built especially for her.)
The 1910 beveled-glass French doors lead to the enclosed porch where the fresh air, sounds of birds and squirrels, along with views of the butterfly/flower garden and its butterflies beckon relaxation. In the evening, add a glass of wine, soft light, and the hot tub and you'll soon know first hand what "Texas Friendly" really means!
The living room has all the comforts of home. Behind the closed doors of the solid cherry armoire are the cable TV, VCR, and radio for those who wish further entertainment. One can watch a football game while the other naps or shops at the unique shops eight blocks away.
The fully-equipped kitchen is great if you wish to prepare a romantic meal at home—even a grill just outside the door for grilling a sizzling steak!
The serene bedroom of soft colors features a king-sized solid cherry sleigh bed. The comfortable bed is dressed in neutral colors of luxurious European linens and down pillows/seasonal comforter. A highlight is the antique English campaign chest. With lace curtains over wood blinds, and soft antique lights bedside, it is perfect for a honeymoon or wedding anniversary.

Amenities
King-size sleigh bed
40" HD Television in Parlor
Luxury European linens 100% fine cotton
Down pillows/comforter
Monogrammed cotton robes
Custom soaps/shampoo/body lotion
Bath with tiled shower
Hair dryer/iron/ironing board
Antiques and old lace
Hardwood floors/Oriental rugs
Antique lighting
Solid cherry armoire
CD/Radio on porch for soft listening
Television in bedroom - 20" LCD Flat Screen - Cable
DVD/ V.C.R. / radio C.D. Player
Central Heat & Air
Fully equipped kitchen/tile counter
No daily housekeeping. Fresh towels and amenities happily replenished upon request.
Private BBQ Butane Grill, with all tools provided
350+ Video Library. Movies delivered to your cottage
Seasonal Afternoon Refreshments
Approximately 700 sq ft.
Rooms: Living room, kitchen, dining area, bedroom, bathroom
Host on site (for helpful directions to shopping, site seeing and restaurants)
A "Birds Eye View map of the Best of Fredericksburg" is provided to each guest. The map includes restaurants and shopping on and around main street. The Visitor Guide provides additional information.
Gift certificates available

Pricing & Policies
$179.00 per night/base rate. All lodging charges subject to additional 13% City/State Lodging Tax.
2 person maximum occupancy
No children under 14 years of age
No smoking inside cottage (smoking on porch welcomed)
No bath products in hot tub
No candles
No pets
Two Night Minimum Required for Most Bookings. Call us to determine if we will schedule a one-night stay. This is to be determined by that week's configuration of bookings & availability. Weekends, Holiday Periods & Special Event Periods always require a minimum stay of 2 night. No exceptions.
14 day cancellation period. If cancellation is made fourteen (14) or fewer days prior to date of arrival, guests will be responsible for full charge of reserved dates. If we are able to rebook the canceled dates, no charge will be incurred for the dates we can rebook within those 14 or fewer days.
No deposit required, but a credit card is required to hold the reservation. Credit card will be run within 7 days before first reserved date of arrival. Cash and personal check accepted. Personal checks must reach us no later than 10 days before scheduled arrival.
No refund for early departures

To serve you better, please provide us feedback on our Web site.